From 1873 until 1938, this was the site of the luxurious Hotel "Metropole." Following Austria's "Anschluss" to Nazi Germany, the hotel was confiscated and became the Gestapo Leitstelle Vienna (regional headquarters). Those arrested by the Gestapo would from now on be taken for interrogations, which frequently resulted in cruel torture as well as in dispatches to concentration camps, through the hotel's former delivery entrance located here.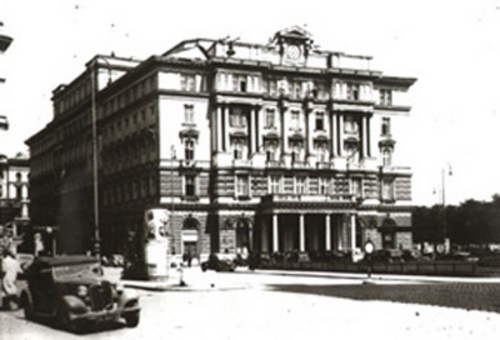 Hotel "Metropole", Vienna, Morzinplatz
Shortly before war end, the building was almost completely destroyed by bombs. After the war, the ruins were torn down and replaced by a modern functional structure. In this building, named after the subsequent Federal Chancellor Leopold Figl, victims' associations established a memorial room for the "Victims of the Fight for Austria's Freedom." All material traces of the Gestapo Headquarters Vienna are gone, yet, this place is an authentic historical site with a distinct aura.
Following comprehensive renovations, an exhibition about Gestapo victims and perpetrators was set up in 2011 in the memorial room, which has been kept in its original form. Here, not only resistance fighters incarcerated at this site and other individuals persecuted by the Gestapo are commemorated, but historic information on the Gestapo, its organization, employees, working method, etc. is given as well. After all, quantity and quality of Austrian resistance can be adequately evaluated only if the apparatus of repression and the persecution measures taken by the Nazi regime are brought to the fore as well.