In June of 1938 the Nazi Party ordered the revocation by the Vienna Housing Office of two thousand rental agreements, effective 31 July 1938. Among those affected was the widow of Senior Mail Inspector Dr. Ludwig Maier. After her husband's death Irma's mother, Anna Grossmann had also moved in. In vain Mrs. Maier protested the eviction notice. An acquaintance of her late husband, the businessman Hugo Singer took the four of them in as subtenants in his apartment on 43 Obere Donaustrasse (apartment 12a), in Vienna's predominantly Jewish 2nd district.
The Maiers planned their emigration. Firstly, Irma Maier was able to bring her younger daughter to safety: Judith was able to leave Vienna on the first of the so called "Kindertransporte" (children's transports to England) on December 10, 1938. There she later married chemist Hans Suschitzky, whom she had known since childhood.
Next it was Ruth's turn. Ruth was too old for a children's transport. Her mother could send her to Norway, where she had the chance to get a high school diploma. On April 29, 1939, three nerve-racking months after Ruth's departure for Norway, mother and grandmother followed Judith to England.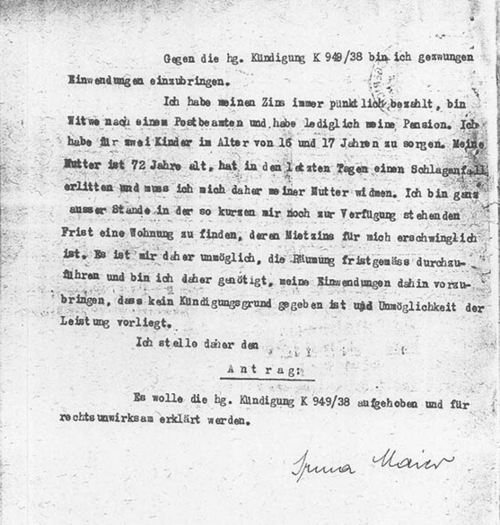 "I am obliged to protest the official Letter of Eviction K949/38 as follows: I have always paid my rent on time; am the widow of a postal worker; and have only my widows' pension. I have to take care of two children [= Judith and Ruth], ages 16 and 17. My mother is 72 years old, and in recent days suffered a stroke, so that I also have to care for her. I cannot believe that I am being forced to find another apartment that I can afford in the allotted time. It is therefore impossible for me to leave this apartment in the allotted time. Thus I am obligated to submit my objections that no reason for the eviction notice has been given, and that complying with it is impossible. I therefore submit the request: The official Letter of Eviction K 949/38 be suspended and declared legally ineffective. Irma Maier." | DÖW, DB "Eviction Reason: Non-Aryan"
<< The Short Life of Ruth Maier - Contents