From the beginning, the National Socialist regime persecuted with great brutality persons who joined Communist resistance groups. Communists offered the most determined resistance resulting in the largest number of victims. They emphasized their Austrian-patriotic orientation and advocated - irrespective of their other social and political notions - the restoration of Austria's independence. Thanks to the influx of former Social Democrats, they became quantitatively the strongest resistance force.
The Communist resistance fighters repeatedly succeeded in building up a net of illegal groups of functionaries; however, almost always they were broken up by the Gestapo. Until the end of 1943, the Gestapo Headquarters Vienna arrested 6300 Communist party supporters.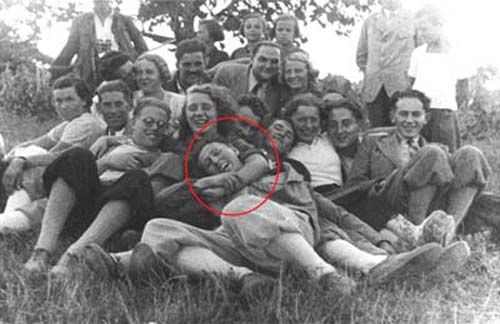 Like numerous other young resistance fighters, Robert Kurz came from the Social Democratic youth movement (the photo, taken before 1934, shows him in a group of the Socialist Workers Youth Leopoldstadt). After 1934, he joined the illegal Communists. However, the group was uncovered in the summer of 1941 through several infiltrated Gestapo spies. Robert Kurz was sentenced to death in 1942, and executed on January 28, 1943.
In 1940, the architect and Communist Margarethe Schütte-Lihotzky returned from Turkey to Vienna. Schütte-Lihotzky was assigned to help establish a network of Communist resistance groups in Vienna on behalf of the executive committee of the Communist Party of Austria, which was located in Moscow. Already a short while later, she was arrested following the betrayal by Gestapo snitch "Ossi" (= Kurt Koppel). In 1942, Schütte-Lihotzky was sentenced to fifteen years imprisonment and remained in jail until liberation in 1945. (Photo: DÖW)

"It was obvious that the Gestapo would never have been able to obtain these results through pure observation. That meant betrayal from within our own ranks. And the thought of 'Ossi' hit me. Horrified, I pushed that thought away, as one wishes to initially remove oneself from something really awful; after all, I was aware what dreadful consequences this would have for our party [...]. In the first night, I reproached myself for recklessly suspecting a comrade of an enormous crime. [...] Unfortunately, only fourteen months after the arrest, we received [...] the news that 'Ossi' is, indeed, the traitor. Carved all over into the aluminum pitchers in the 'Liesl' [= police jail Elisabethpromenade, later Roßauer Lände] was 'Ossi is a traitor.'"

From the recollections of Margarethe Schütte-Lihotzky about the Gestapo snitch "Ossi" (= Kurt Koppel), undated.

Kurt Koppel, former functionary of the Communist Youth, became active as a Gestapo snitch soon after the "Anschluss." He acted under the code names "Peter," "Konrad Klaser," and "Ossi;" he was subordinated to the Gestapo Intelligence Department and its head, Lambert Leutgeb. Whether Koppel was forced into becoming a snitch by way of threats or whether he did it because of financial benefits or the need to feel important is unknown. He managed to go underground after 1945.