Anti-Catholic measures, the persecution of former functionaries of the Austrian "corporate state," and the suppression of all that is Austrian-patriotic brought about the formation of three large bourgeois-Catholic resistance groups with almost the same name. When in spring 1940 representatives of the three groups began talks about a possible merger, the Gestapo arrested way over 100 activists. A snitch in the service of the Gestapo, Burgtheater actor Otto Hartmann, had spied on the resistance groups and betrayed them. In 1944, ten leading functionaries of all three groups were sentenced to death and executed, numerous other activists were sentenced to partially long imprisonments.
Final report of the Gestapo Headquarters Vienna, December 17, 1940

Download >> (PDF, 1071 KB)
The significance of the resistance group operating between 1942 and 1944 around Chaplain Dr. Heinrich Maier (1908-1945) and Semperit Director General Franz Josef Messner (1896-1945) was chiefly in its contacts to the American military secret service. Thanks to information provided about the locations of industrial companies, the latter could be bombarded by the Allies with precision and the destruction of residential areas could be, at least partially, avoided. The group was uncovered by a traitor between February and April 1944. Eight leading members were sentenced to death for "preparation toward high treason" on October 28, 1944 and later on executed or murdered.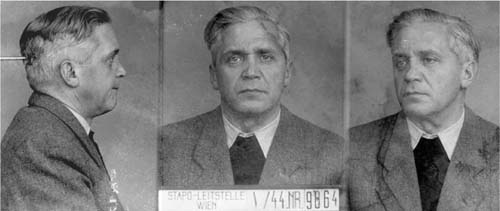 Franz Josef Messner (1896-1945) was sentenced to death on October 28, 1944 and murdered in the gas chamber at the Mauthausen concentration camp on April 23, 1945. (Photo DÖW)
"On April 23, 1945 at 3 p.m., Commander SS Standard Leader Franz Ziereis personally came to the bunker and ordered me to take forty prisoners, among them Dr. Franz Messner, to the gas cellar. While leaving his cell, Messner still wanted to tell me something, but the Commander's presence prevented that. None of the prisoners were beaten. The Commander himself had the gas flow in. The gassing worked since already five minutes later, I had to open the doors and switch on the ventilators. That same night of April 23 to 24, 1945, the corpses of the gassed individuals were incinerated in the crematory of the Mauthausen concentration camp."

The Tyrolian Ernst Martin, at the time a Mauthausen prisoner, on Messner's murder