Ruth Maier's sister in England, Judith Suschitzky, preserved Ruth's letters to the family, and in the 1990s provided them to the Norwegian writer Jan Erik Vold. Vold discovered the diaries in the estate of Gunvor Hofmo. Vold edited them for ten years, and the current edition has been translated into 12 languages. The book was the basis of the play Tvillingsjeler ("Kindred Souls") by Otto Homlung. The Norwegian National Theater went on tour with it in many cities in 2013. In 2014 it provided the plot for a Broadway musical.
The two authors of the musical, Gisle Kverndokk und Akse-Otto Bull, composed an opera under the title Letters From Ruth. Selections of the opera were performed for the first time in September 2017 in a staged concert, given by artists of the New York Opera Society in Washington DC (National Gallery of Art). The film maker Elsa Kvamme is working on a film based on the relationship between Ruth Maier and Gunvor Hofmo.
The letters and diaries of the "Norwegian Anne Frank" are today housed in The Center for Studies of the Holocaust and Religious Minorities (HL-senteret) in Oslo. In 2014 they were accepted by the Norwegian "document archive", and thus became part of UNESCO's Memory of the World program.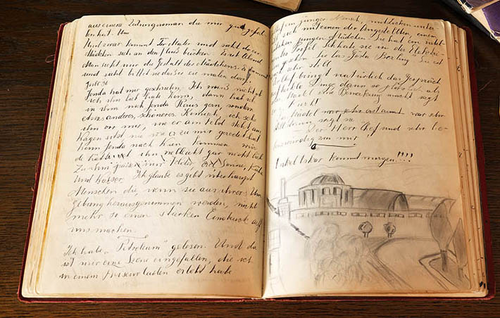 Entries of July 1936 from Ruth's second diary
(November 1935 - October 1936) | HL-senteret
<< The Short Life of Ruth Maier - Contents