Ruth Maier was born in Vienna on November 10, 1920. She and her 1½ years younger sister Judith spent the first years of their childhood in the city district of Döbling in a rooftop flat in an apartment house at Peter Jordan Strasse.
Starting in 1930 the city built a large housing project along Gersthofer Strasse, where the family moved into a roomy apartment on the third floor (stairwell 1, apartment 14, with entrance at 2 Hockegasse). Her father, secretary of the union of Austrian post office workers and secretary of the International Union of P.T.T. employees, had his office on the floor above. Ruth liked sitting and reading in the study of her father, with whom she developed an intimate relationship. Just when she turned 13 her father died of erysipelas. Mother Irma and grandmother Anna tried to allow the two girls a still lighthearted childhood.
Ruth Maier kept a diary since 1933. Therein she described her feelings, her everyday life, documenting though also political events, and reported the persecution of Jews after the "Anschluss" of 1938.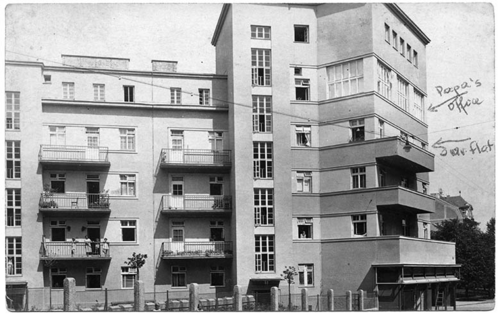 Today's "Rudolf Sigmund courtyard", 75-77 Gersthofer Strasse, at the corner of Hockegasse. Ruth sent the photo to her sister Judith, who was already living in England. | HL-senteret
>> Following the Annexation of Austria by Hitler's Germany in 1938
<< The Short Life of Ruth Maier - Contents